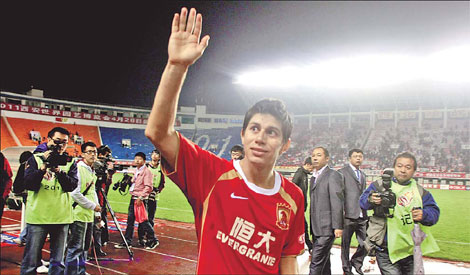 Guangzhou Evergrande's Argentina midfielder Dario Conca waves to fans after helping his team win the Chinese Super League title after beating Shaanxi Renhe on Wednesday. [Photo by Liang Meng/ for China Daily]
Guangzhou club clinches Champions League berth early, moves on to future preparations
BEIJING - Everybody is busy fighting for a berth in the AFC Champions League.
Everybody, that is, except Guangzhou Evergrande.
The club, which secured its place after claiming the domestic title four rounds early with a 4-1 victory over Shaanxi Renhe on Wednesday, is already preparing for the continental tournament.
Coach Lee Jang-soo said Evergrande must prepare at least two lineups to deal with a tight schedule next year, when it has to play the domestic league, AFC Champions League and CFA (Chinese Football Association) Cup at the same time.
Lee was rumored to be in danger of being replaced by a bigger name after the season.
"I have heard we will sign another five players next year, but I'm not sure," said Lee, who took charge of the team in March of 2010 and led it to the top tier in his first year. "We will have to play three tournaments next year, so it's not enough to play with the players we have now.
"It's not easy to find the right players - sometimes you spend a lot of money, but may find the player not good enough, sometimes you get some famous foreign players, but they might under-perform in China.
"Whatever, to achieve better results, we need to be stronger, and prepare two or three lineups for next year."
After taking over the club last year, Xu Jiayin, chairman of Guangzhou Evergrande Real Estate Group, has spent more than 300 million yuan ($47 million) upgrading the club, and has vowed to invest more.
The club announced an incentive plan at the beginning of the season, saying the team would be awarded 5 million yuan for a victory, one million for a tie and fined 3 million for a loss. According to domestic media, the award money reached 94 million yuan after the club's victory on Wednesday.
In mid-July, Evergrande signed Argentine midfielder Dario Conca, who was named the best player of the Brasileiro in 2009 and 2010, for $10 million. Conca was offered a salary of $7 million a year.
The club also announced it will partner with Spanish giant Real Madrid to open the world's biggest soccer school in Guangdong province next year in an effort to develop the country's talent.
"It needs a lot of courage for the boss to invest in Chinese soccer, when the country's soccer environment keeps changing - without his support, we couldn't win the championship," said Lee, who won a top-flight title in the Chinese league for the first time in 11 years. "I have worked hard for the title for more than 10 years, and I proved myself today. I want to share my happiness with the boss, because he gave me the chance to change a team."